Vietnamese Dishes

Tourists can enjoy Vietnamese food everywhere at deluxe restaurants or even at street cafes. As you travel up or down the country; you will notice sharp differences in both main dishes and snacks eaten by locals. It's one of the joys of traveling in the country; and it's a good idea to ask your guide to point out interesting things to eat.

PHO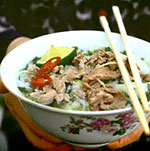 For Vietnamese; Pho is life; love and all things that matter.
In Vietnam; Pho is mostly a restaurant food. Though some people prepare it at home; most prefer going to noisy soup shops. Here are a few tips:
- Pho comes with a variety of toppings including rare beef; well-done beef and slices of brisket; tendon; tripe and even meatballs. If you`re a novice; try pho Tai Chin; which includes the rare and well-done beef combination.
- Sprinkle some black pepper; then add bean sprouts; fresh chiles and a little squeeze of lime to your bowl. Using your fingers; pluck the Asian basil leaves from their sprigs and; if they`re available; shred the saw-leaf herbs and add to the soup. Add little by little; eating as you go. If you put the greens in all at once; the broth will cool too fast and the herbs will overcook and lose their bright flavors. Chile sauce and hoisin sauce are also traditional condiments.

BUN BO HUE (HUE BEEF VERMICELLI)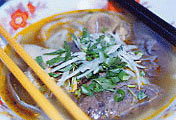 All over Vietnam, you can find and enjoy beef-vermicelli and its tastes from all parts in the country meet and make up special flavor of Hue vermicelli.
 Hue people enjoy beef-vermicelli in their own way and the food here is a combined art of something fashionable, something very popular. Hue connoisseurs rarely enjoy the food in well-decorated restaurants, and an eating place frequented by tourists is opposite to city post-office on Ly Thuong Kiet Street. Beef-vermicelli is consumed here day and night, the broth-pot is kept boiling but this is not the most visited one because Hue city folks only have beef-vermicelli in the morning and they have their own choice. Fresh vegetables are inseparate and vermicelli seems to have just gone out from producer's, and the flavor of the snack could be found nowhere else.




HU TIU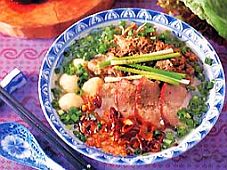 Hu tiu, the Chinese rice noodle soup, was imported to Saigon and southern Vietnam by Chinese immigrants centuries ago.
Ask for hu tiu at any Chinese restaurant that serves dim sum (breakfast), and you'll have a hot bowl of white noodles whose flavor will make your mouth water. On top of the noodles are slices of pork, and on top of the slices are lettuce leaves. Chinese cooks often add small cubes of fried fat to make their hu tiu more delicious.






CHA CA LA VONG (LA VONG FISH-PIE)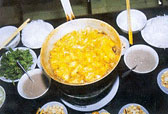 The inventor of this fish-pie came from Doan family on Hang Son Street, Hanoi. In 19th century, Hanoi people normally baked pork, but he baked fish-unstinking fish to make fish-pie. Hanoi people then soon got infatuate it and his eating-house turned prosperous. Henceforth, the name of the street was changed into Cha Ca (fish-pie) from its former name Hang Son (Paint Street) due to success of his eatery.
 To Hanoi people, the taste of Cha Ca remains as it was. To have tasty pie, shopkeepers have to select good fish (normally Lang fish) with solid fresh, less bones and good scent. Processed fish is mixed in fish sauce, pepper, galingale, saffron and rice-ferment. Then put on a fire-tongs and grilled right on the eaters' table. Eaters, while eating, have to fan the fire, turn upside down to make both sides baked. Then they put the fish into a bowl of boiling fat and consumed with rice vermicelli, groundnuts, spices, dried rice-cake, sliced onion leaves, some drops of lemon juice and a little coleopteran.


CA KHO TO (FISH COOKED)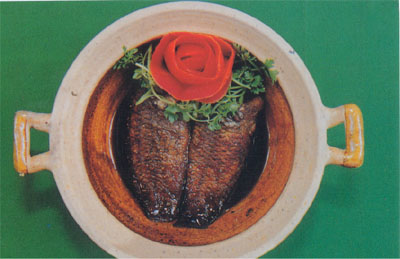 Earthen pot-cooked rice and fish is a popular food in Vietnam, from North to South.
The experienced housewives normally serve their family with this kind of food. There must be fresh water fish (trout, gudgeon, and catfish). Sometimes, salt water fish can be used instead, but there must be good fish with solid flesh. Processed fish (cut horizontally not vertically) is mixed with fish sauce, ginger and spices, and then put into an earthen pot and cook o small fire until dry. Cooked fish must be solid, not soft and the scent of spices make the food more attractive, even the bones have to be cooked until soft, so eaters feel satisfied when eating.


COM (GREEN-RICE) 

In a clear autumn morning, when the Northeast wind lightly blows; green-rice from Vong village (a famous village in Hanoi) travels with young country girls to the corners of the city. Green rice is said to be the quintessence of the earth and sky, the milk of rice paddies in buds. Vong villagers now pick and choose the right kinds of rice to make green-rice. Traditionally, green-rice is an offering indispensable on engagement day of the couple, from the bridegroom's family to the bride's family.
Apart from green-rice, Hanoi people are skilled in preparing other dishes from green-rice sticky rice such as sweet rice-soup, and rice-pie... Each has its own specialty, but all are fascinating.
ating.

XOI (GLUTINOUS RICE)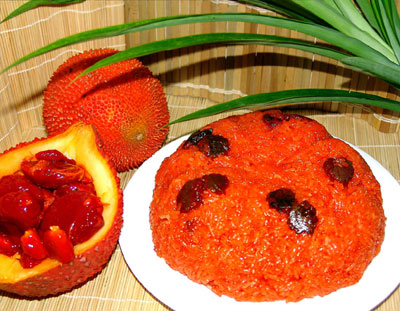 Rice is categorized in two: normal rice and sticky rice. The second is indispensable in people's daily life as well as on holidays. Sticky rice is plentiful in types: banana flavor, coconut-leaf, sesame and coconut, sausage, back-peas, green-peas, maize and mixed sticky rice...are just a few in 3 parts to name. Nep than, nep cai hoa vang are best flavors to make rice and wine.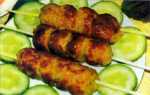 NEM

One of the best Vietnamese food ! The Vietnamese Version of the eggroll; Cha Gio is a seasoned mixture of eggs; ground pork; and sometimes crab or shrimp rolled tightly in rice paper and deep-fried. It is served accompanied by lettuce; cucumber and Nuoc Mam.

The proper way to eat these delicacies is to roll them in a piece of lettuce with a slice of cucumber and dip it into the Nuoc Mam.






LAU (HOT POT)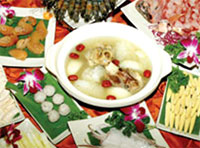 In fact, no food bears local identities as hot-pot. Southerners, especially those in the Mekong Delta whose life is dearly related to water, are friendly and easy to make friends with their "comrades". Once they think, they have to drink to their fill and hot-pot is the food they can't go without.
What a marvel it's when one stays on a floating boat, by side of smelling hot-pot cooked with fish caught by himself. Fish is caught from rivers or ponds. The fisherman maybe Anh Ba or Anh Nam or so promptly, he drops dead the fish and Ms Ba or Ms Nam or so gets it cleaned and boiled in a pot. Spices are inseperable with the fish. Hot-pot is the flavoured only with certain spices.


BANH CHUNG



Banh Chung or square rice cake is a Vietnamese traditional dish most commonly found during the "Tet" New Year celebration. Every Vietnamese family must have "Banh Chung" among their offerings to be placed on the ancestors' altars.
One or two days before Tet; the family gather to prepare and cook the rice cakes around the warm fire. "Banh Chung" is made of glutinous rice; pork meat and green bean paste; and is wrapped in a square of "Dong" leaves (rush leaves) giving the rice a green color after boiling for ten hours.
Making the dish requires care and precision. The rice has to be soaked in water for an entire day; the pork meat must include skin and fat; the green beans must be of the same size and the leaves must be fresh. Squaring off and tying the cakes with bamboo strings require skillfull hands.
During "Tet" New Year; the rice cakes are served with"gio lua" or lean pork pie; and "hanh muoi" or salted sour onions.





BANH XEO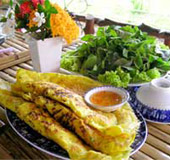 This Vietnamese dish resembles an egg omelette; but it is actually rice powder mixed with water; then fried in a skillet with pork; shrimp and bean sprouts.

Served with rice paper; Vegetable greens and Nuoc Mam; you break off a portion; roll it up in rice paper with a few greens; then dip it in Nuoc Mam.
It is easy to find Banh Xeo in the South provinces.




BANH KHOT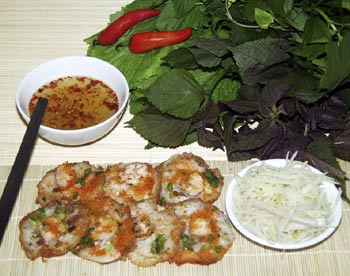 Rice, cold rice after being cooked or rice crust at the bottom of the pot, shrimp, ground dried shrimp, nuoc mam (fish sauce) and vegetables are the main ingredients of the dish.
Muoi said that first she mills the mix of rice and cold rice after being cooked into flour before pouring the flour into a mould that has nearly 50 small holes in the shape of a half circle.
After that, she adds dried shrimp and fresh shrimp to the holes. Diners can eat the dish after the mix's skin becomes yellow. "Rolling the banh khot with vegetables and using fish sauce is the feasible way to enjoy the banh khot," she said, adding that a banh khot dish contains 8-10 pieces.

IT'S A WRAP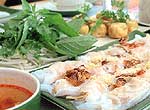 Wrap and Roll specialises in one of Vietnam's most popular traditional fast foods - the spring roll. With a menu offering about 35 varieties of rolls, including prerolled and roll-it-yourself varieties, the restaurant is well worth a visit for fans of this perennial favourite.
Designed in the form of a cylinder, with large windows looking out onto the street, a skylight set in the high, sloping roof to let in a little sunlight, and polished cement floors, Wrap and Roll feels chic, modern and fresh. Decorated in yellow, green and orange, the restaurant reflects the fresh colours of its specialties.

Wrap and Roll
Add: 62 Hai Ba Trung St, Dist 1
Tel: (84-8) 823 4030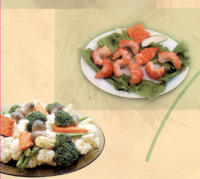 VEGETERIAN MEAL (Com Chay)
Vietnamese vegetarian cooking (an chay) has a long history and is an integral part of Vietnamese cuisine. In general, the focus of vegetarian cuisine in Vietnam has been on reproducing traditional dishes prepared with meat, chicken, seafood or egg without including these ingredients. Instead, tofu, mushrooms and raw, dreid, cooked and fermented vegetables are used.

Vegetarian meals are part of abstinence. Accordingly, the vegetarian regimen can help you have a pure and healthy heart. In addition, it help you to free yourself from the cycle of Karma, a dogma according to which the destiny of a living being is determined by the totality of his past actions and his past lives. In other word, the renunciation of meat help you avoid committing sins related to the killing of living beings".

BANH IT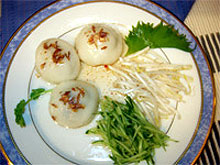 The dumpling can be made with sweetened ground coconut instead of beans. Either way the banana leaves are usually put quickly on the fire or dipped in hot water to make them soft so that it is easier to wrap the cake with them. The little packages usually are shaped like pyramids with square bottoms. Then people arrange the packets into a pot for steaming.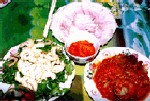 TOM CHUA (HUE SOUR SHRIMP )


This dish can be prepared with any kind of shrimp. The recipe includes a number of steps that must be performed in a specific order. First, the fresh, clean, and dry shrimp of approximately the same size are put in wine along with dry bamboo shoots, garlic, and chili. The ingredients are kept in a closed container at room temperature for three days. Then the container is put in a cool, dry place. After five or seven days, the sour shrimp are ready.


VERMICELLI WITH SOUR SOUP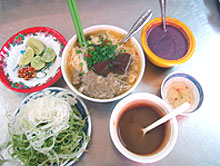 Bun rieu, vermicelli with sour soup, is one of Vietnam's most popular dishes. It is offered at hotels, restaurants and markets, or sold by peddlers, but not many people know its origin.
Sour soup vermicelli is for eating any time of the day. It is served for breakfast, lunch or dinner or it can be a temporary dish between two meals. In particular, it is a favorite of women.

The soup always has crab. The style of cooking is different in each region and at each restaurant. The main ingredients are vermicelli, field crabs, tomatoes, solid pig blood and fried tofu.




SNAIL SOUP WITH VERMICELLI



Snail soup with vermicelli, a delicacy popular to the Vietmamese, may be found at any time and any place, both in the city and in the countryside. It is a delicate, yet very simple aand popular disk - a snack for all people irrespective of their wealth
and social position, be they urban dwellers or country forks.
To serve it, you should put vermicelli into your bowl, dip it in the snail soup with a few snails and some chilly. It must be served hot to appreciate its full flavour.

VEGETARIANS' MONTH OF FINE DINING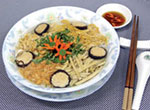 The first month of the lunar year is traditionally a good month of vegetarian dining for Asian people who use it as an occasion to pray for good things for themselves and their families and friends.
Today vegetarian dining is becoming more and more popular not only because it is associated with health benefits but it also offers fine and exotic dishes. The vegetarian cuisine has great diversity and is a true culinary art. Two of Saigontourist's restaurants have made a name for themselves with this cuisine.


Dong Khanh Restaurant
Add: 2 Tran Hung Dao B St., Dist. 5, Ho Chi Minh City.
Tel: (84-8) 296 2015

Van Canh Restaurant
Add: 73 Pham Ngu Lao St., Dist. 1, Ho Chi Minh City.
Tel: (84-8) 829 4963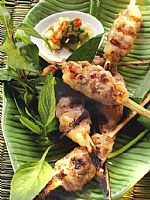 GRILLED FOOD
Grilled food or grills for short is closely related to the floating life of the cultivators. It might be that the first settlers (in their cultivation process) found good smell and taste in grilled fish, duck, chicken or something else. Nowadays, grilled food is more and more improved; however it remains as it was called.
Apart from originally grilled food: fish, chicken, today people invent more grills: pork (consumed with vermicelli), wild pigs... need more skills. But don't forget that beef is rolled in la lot (kind of spices) to be grilled or cods to be in banana leaf, eels in mulberry leave...
Ways to grill are uncountable, even a chicken can be grilled unplucked (with hair on) and coated with clay. It's not only satisfactory to your taste but to your eyes and noses...





BUN CA
Bun ca is a specialty of Phan Thiet. It is usually served in a single bowl, but at Sea Breeze the chef has updated the presentation of this traditional dish, allowing patrons to assemble their own perfect bowl of bun ca by presenting the ingredients on a bed of banana leaves. At Sea Breeze, when you order bun ca you are served a platter featuring a handful of ca suot (a fish indigenous to Phan Thiet), a handful of boiled pork, thinly sliced fried eggs, star fruit, cucumber and fresh mixed vegetables, alongside a plate of vermicelli, a bowl of banh da (rice cake) pieces and, most importantly, a bowl of sauce.
Sea Breeze Restaurant
Saigon Mui Ne Resort
Add: Ham Tien, Phan Thiet, Binh Thuan
Tel/Fax: (84-62) 3847 302 / 3847 307





VEGETARIANS' MONTH OF FINE DINING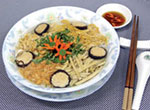 The first month of the lunar year is traditionally a good month of vegetarian dining for Asian people who use it as an occasion to pray for good things for themselves and their families and friends

Today vegetarian dining is becoming more and more popular not only because it is associated with health benefits but it also offers fine and exotic dishes. The vegetarian cuisine has great diversity and is a true culinary art. Two of Saigontourist's restaurants have made a name for themselves with this cuisine.


Dong Khanh Restaurant
Add: 2 Tran Hung Dao B St., Dist. 5, Ho Chi Minh City.
Tel: (84-8) 3296 2015

Van Canh Restaurant
Add: 73 Pham Ngu Lao St., Dist. 1, Ho Chi Minh City.
Tel: (84-8) 3829 4963





MUSHROOM HOTPOT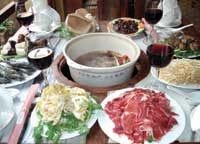 At Ashima Mushroom Hotpot restaurant, even the most reluctant diners end the night begging for more. Although Ashima also uses Vietnamese mushrooms, most of the mushrooms are imported and were discovered by Kim Anh and her friends while travelling.
"Some mushrooms need to be cooked long enough to absorb the flavour from the broth, which is a mixture of mushrooms, Chinese herbs, and pork bones that have been cooked for more than 10 hours," Kim Anh said.
When the mushrooms were ready, the waitress poured some soup into a small bowl of seasoning powder and then placed the mushrooms and meat into our bowls.
Ashima Mushroom Hot Pot
Address: 35A Nguyen Dinh Chieu Street, Dist 1, HCM City
Tel: (08) 3824 1966


SEARED WAGYU BEEF CUBES
Seared wagyu beef cubes with red and yellow capsicum coulis

The recipe calls for the steak to be cooked medium-rare, never well-done. If overcooked, the meat will lose much of its precious fat. It can be grilled with vegetables, which can be served with homemade sauces or condiments like Tabasco or horseradish sauce. The dish is served as a main course for both home parties and dinners.


The dish is available at the hotel's Sai Gon Cafe at 253 Nguyen Van Troi Street, Phu Nhuan District, HCM City. Tel: (08) 3844 9222.

STUFFED OMELETTE (BANH KHOAI)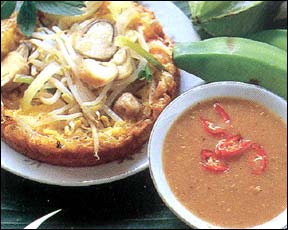 Stuffed omelette made with rice flour and flavoured with cumin, it is fried until deliciously crispy around the edges in pans over charcoal burners.It is filled with little mounds of pounded pork, shrimps, a few bean sprouts and some mashed green beans, and then folded over.
To eat it, you break a piece off with chopsticks and wrap it in fresh mustard greens with fresh green herbs, slices of green banana and green fig, and dip it in sauce. The fresh leaves, which include the spicy, red-tinged cumin leaf, help to cut through any oiliness in the fried dish, as does the sourness of the banana and fig, which are also digestive aids.

QUANG NOODLES
As "pho" is to Hanoi and beef rice noodles is to Hue, Quang noodles is very popular in Quang Nam and Danang.
This dish's ingredients include rice, vegetables and meat. After being soaked in water, the rice is ground to a fine powder and made into attractive smooth white noodles. Accompanying vegetables are water morning-glory, cress, young banana flowers and herbs. Especially, the famous Tra Que savory of Quang Nam Province will give the dish more flavour. You can use pork, chicken, fish, crab or shrimp to make the broth. If chicken is chosen, the meat is separated, seasoned and stir-fried while the bones are stewed. Finish the stock by adding cooked chicken meat.
Some well-known Quang Noodle Kiosks in Danang City:
1. Mrs. Lu Quang Noodle
- Add: 126 Ham Nghi Street
- Tel: 511 - 3652 243.
2. Mrs. Vi Quang Noodle
- Add: 155 Trung Nu Vuong Street
- Tel: 511- 3865 651
3. Hai Phong Quang Noodle
- Add: 05 Hai Phong Street
- Tel: 511- 3827 936
4. Dinh Tien Hoang Quang Noodle
- Add: 53/54 Ong Ich Khiem
- Tel: 511- 3863 025

HUE THIN CAKES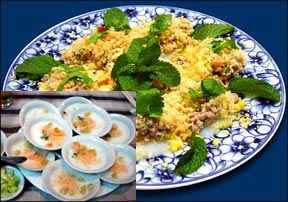 Thin cakes are made of sweet rice in the shape of duckweed. In fact, making this kind of cake is not complicated. Rice must be ground in to fine powder. Then the cook steeps this powder in water in a few minutes to turn it into a moderately viscid and liquid powder. At the third step, the liquid will be put in small cups and then on gridiron for steaming.
To serve it, you should put some species in cakes such as pounded shrimp, some cooking oil. The sauce for this kind of cake is very important. It is made of fresh shrimp so it is both sweet and fat. And you should enjoy thin cakes with some chilly.
Thin cakes are also served in "King's meals" for tourists and in "royal ones" for beloved guests.



COM HEN (HUE MUSSEL RICE)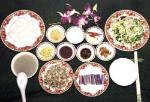 Hot white rice is part of every meal in Vietnam, but only Hue mussel rice is served cool. Hue people, after deciding that no food should be wasted, have designed this dish using leftover rice.

This dish includes Chinese vermicelli, bamboo shoots, lean pork meat, and an assortment of green vegetables (banana leaves, mint, star fruit, etc.).
The broth obtained after boiling the mussels is used to flavour the rice. Ginger, sesame, and chili are also added to the broth. This dish is very spicy and it is not rare to see people with watery eyes and sweaty faces while eating it; nevertheless, everyone congratulates the cook for such a delicious meal.


PORK WRAPPED IN "BANH TRANG"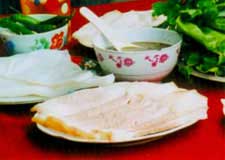 You should make the rolls yourself from boiled pork, vegetables and noodles. Just roll the ingredients in soft "banh trang" and dip them in spicy fish sauce
The boiled meat must be well done and the pure colour of its fat retained. Pork is poiled in medium fire so that it is not well done so soon. Utensils must be rinsed before touching the meat to maintain its flavour and hygiene. Except for vegetables, fresh onion and green pip bananas, other additional things including fried "banh trang", noodles (made by rice flavor to roll with boiled pork) are made by the saler for higiene requirements. Hot fish sauce will make the dish more special.
Some kiosks in Danang City:
1. Mau Kiosk
- Add: 35 Do Thuc Dinh Street
- Tel: 511- 3846 615
2. Quynh Giao Kiosk
- Add: Do Thuc Dinh Street
- Tel: 511- 3846 410
3. Nam Phuc Kiosk
- Add: Do Thuc Dinh Street
- Tel: 511-3846 385
4. Dong Noi Kiosk
- Add: 115 Do Thuc Dinh Street
- Tel: 511-3846 615

WEST LAKE SHRIMP IN BATTER
The best time to enjoy shrimp pancake at West Lake is at sunset in summer. The pink shrimp (from the West Lake fresh water) on light brown crackers and the sweet, sour and spicy sauce all remind you of the aroma of the countryside. There at the West Lake, a diner could take each bite of the cake accompanied by a drink of cold beer, and enjoy the nice smell coming from the stove and the cool wind blowing from the lake. Now, you may seek somewhere in your memory the fairy tale about the Golden Buffalo who, on the way to look for his lost mother, created the West Lake.
The shrimp fried pancake of West Lake now still keeps its traditional flavour and taste: hot, cracker cake dipped in skillfully made sauce which is sweet, sour and spicy.


DUC CAKE (BANH DUC)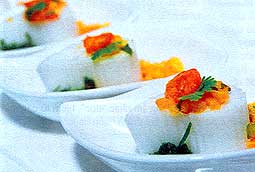 Duc is a popular kind of steamed savory cake, which originated in northern Vietnam. In Hanoi, banh duc is usually sold at small food stalls and can be eaten throughout the day as a snack.
This cake comes in two varieties, one made from corn flour, the other from rice flour. Other ingredients include water, peanuts and lime juice and the finished cake is soft, smooth and colourless.
As a frugal but nutritious meal, banh duc is often eaten with steamed meat, seasame seeds and salt.






RICE FLOUR STEAMED ROLLS

A breakfast of banh cuon is a favourite of the Vietnamese. It is made of rice flour, from thoroughly selected grains. The rice is soaked overnight, and ten ground with stone mortar.
Food preservatives are added to the flour to make the sheets of rice softer and smoother. A screen of cloth, used to mould the rice sheets, is placed over the opening of a pot of boiling water. Flour is spread on the screen and then covered with a lid. After a few minutes, a bamboo stick is used to strip the thin layer of flour off the screen, and it is rolled up and sprinkled with fried anions.
All of the ingredients are stir-fried, put into a banh cuon, and then rolled up.


ROAST DUCK
is a specialty of Lang Son province, especially roast duck of That Khe. Duck is killed and plucked, then some ingredients of which Mac Mat leaf is special, will be placed inside and the duck will be re-mended.
After that, duck is put into boiling ground-nut oil or fat to be roast until it turn crisp. Roast duck have crisp skin and delicious flavor.


FRIED SWEET CORN (NGO NEP NUONG)

Walk through the streets of Hanoi in the winter and you are sure to pass vendors huddled over small hibbachis, roasting corn-in-the-cob. The sweetest sticky corn comes from the Red River Delta and is roasted in its husk over wood coals. Roasted corn makes a perfect warming snack.
In the South, corn is often stripped off the cob and fried in oil. The kernels are mixed with meat or vegetables and served as a full meal. While fried corn is delicious, nothing beats the smell and taste of roasted corn on a wintry Hanoi evening.




NEM RAN OR CHA GIO (FRIED SPRING ROLL)

This dish is called Nem Ran by northerners and Cha Gio by southerners. In Hanoi, the introduction of Nem Ran dates back to a time when Cha Ca had not existed. Although it ranks among Vietnam's specialty dishes, Nem Ran is very easy to prepare. Consequently, it has long been a preferred food on special occasions such as Tet and other family festivities.
Ingredients used for Nem Ran comprise of lean minced pork, sea crabs or unshelled shrimps, two kinds of edible mushroom (Nam Huong and Moc Nhi), dried onion, duck eggs, pepper, salt and different kinds of seasoning. All are mixed thoroughly before being wrapped with transparent rice paper into small rolls. These rolls are then fried in boiling oil.


SOUR PORK SAUSAGES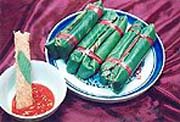 It takes a lot of time to make nem chua. Pound pork well then add salt, sugar and other seasonings. Mix thoroughly until it becomes completely smooth but stiff paste. Finally add some pepper seeds to the mixture. Slice boiled pig skin into small threads and put them into the meat moisture and pound well. Divide the mixture in to 2 finger- shaped pieces, put it on banana leaf and cover it up closely for 2-3 days. It is best served with fresh garlic.
In addition from the above ingredients, we can make grilled nem and fried nem. For grilled nem, divide the mixture into meatballs and thread the meatballs onto the bamboo skewers. This dish can also be made in another way by covering the meatballs in a banana leaf and grill them. This dish is called "nem lui" which is not less delicious than "nem nuong".


VEGETARIANS' MONTH OF FINE DINING
It can cost US$20 for a royal party but it could take you a year to wait for a Hue-style meal comprised of salt and rice. Such a meal is only prepared on special days for Hue families, or when they welcome special guests. Hue households take enormous effort in preparing a unique meal with around 20 salt dishes cooked with different flavours. Rice and salt, familiar and simple ingredients for any Vietnamese family, are subjected to culinary alchemy. Roasted salt soaked with grease, dried salt mixed with pepper, salt stewed with chilli, salt dried with citronella, salt mixed with ruoc tom (shredded shrimp), the list goes on...

BANH KHUC

Banh khuc is a traditional cake of Vietnam. It's a rice ball made from glutinous rice, green bean, pork, spices and, most importantly, cudweed (khuc).
First, the cudweed is washed, ground and then mixed with husked glutinous rice. Green beans, that are flayed and turned into paste after being cooked, are then added to the mixture. Finally, the cakes are sprinkled with grains of glutinous steamed rice.
(Source: www.vietnamtourism.com.vn; www.vietnamtravelguide.com)